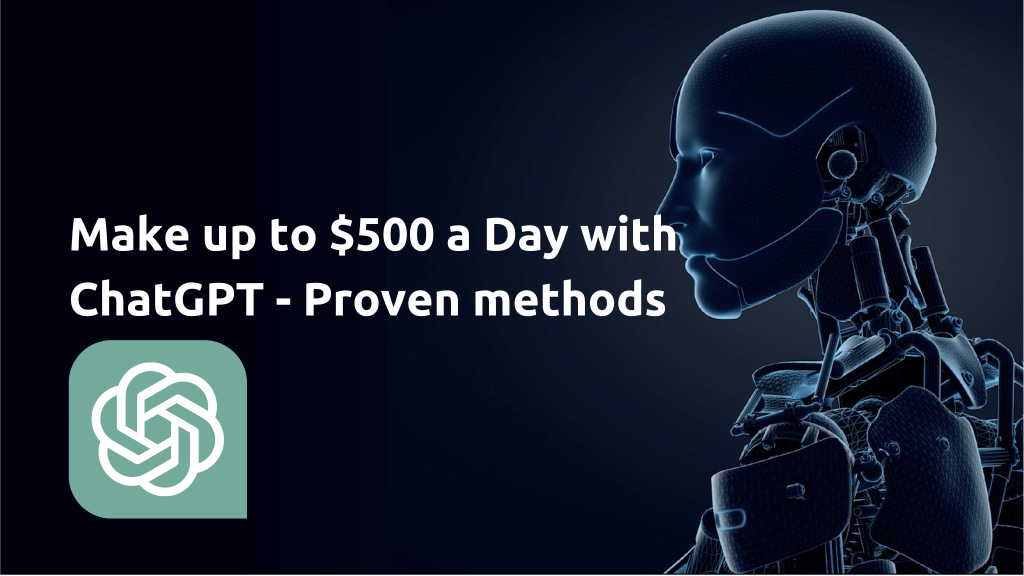 Chatbots are revolutionizing the way businesses interact with their customers.
The advancements in artificial intelligence (AI) technology have made chatbots smarter and more efficient than ever before.
One such example is ChatGPT, an AI chatbot developed by OpenAI that can simulate human-like conversations. ChatGPT has opened up new opportunities for people to make money online.
In this article, we will explore 10 ways to earn up to $500 a day using ChatGPT.
First of all, if you are looking to make money with AI, we recommend taking a lot at some of the best AI tools available right now.
We constantly search the market for new tools, and update the full AI tools list weekly.
You can explore AI tools by categories here:
12 Proven Ways to Make Money with ChatGPT
There are many ways to make money using ChatGPT and artificial intelligence.
Right now there are more opportunities than ever, because AI allows us to work faster and more efficient.
Here are 12 possible ways to make up to (or more) 500$ a day:
1. Offer Chatbot Consulting Services
Businesses are always looking for ways to improve their customer service.
You can offer your expertise in chatbot development and maintenance to these businesses.
You can help them implement ChatGPT in their customer service strategy and provide ongoing support.
This will save the company a lot of time and improve their customer support.
2. Develop Custom Chatbots
If you have experience in chatbot development, you can create custom chatbots for businesses.
You can offer your services to small and medium-sized businesses that cannot afford to hire a full-time chatbot developer.
3. ChatGPT Prompt Training
Many businesses struggle to train their employees to interact with chatbots.
You can offer training services to help businesses train their employees to interact with ChatGPT effectively.
AI tools are only as good as the person asking the questions and creating the prompts.
By learning how to use Chatbots like ChatGPT effectively, you will have a big advantage.
One method to make money with ChatGPT is through affiliate marketing.
Additionally, ChatGPT users can use this tool to generate income through partner marketing.
Affiliate marketing entails promoting products, services, and brands on a website or other online platform in return for a share of the sales.
It is a strategy for selling products, services, and brands.
It is a drawn-out process, and before using ChatGPT, you must decide on the audience-building format (such as an essay, audio, or video).
👉 Learn how to create a profitable blog for affiliate marketing here.
The best way to monetize ChatGPT is to start a site.
You can start a site from scratch with just web hosting and watch it develop in 6 to 8 months.
A site can be started with little to no cash. ChatGPT has made things easier.
Writing pieces will be easier because ChatGPT can almost completely cover any subject. The command "write a 1000-word blog entry about a healthful diet" could be given to ChatGPT.
Then Chat Talk will spew out a superb, skillfully written article about a balanced diet.
Users are advised to edit this page if they want to prevent getting a strike.
6. Chatbot Integration Services
Businesses that already have a chatbot may need help integrating ChatGPT into their existing system.
You can offer integration services to these businesses to help them take advantage of ChatGPT's advanced features.
7. Chatbot Maintenance Services
Chatbots require regular maintenance to ensure they are functioning properly.
You can offer maintenance services to businesses that do not have the resources to maintain their chatbots.
8. ChatGPT Copywriting Services
Chatbots require engaging and informative content to keep customers engaged.
You can offer copywriting services to businesses that need help creating content for their chatbots.
Every company needs copywriters for many different tasks, like website copy, writing blogs, email marketing, ad-copy, and more.
A great way to make money with AI is therefore offering copywriting services and utilizing ChatGPT and AI tools to do the work more effectively and with higher quality.
9. Chatbot Translation Services
Businesses that operate in multiple countries may need their chatbots to be translated into different languages.
You can offer translation services to help businesses reach a wider audience.
10. Chatbot Marketing Services
Chatbots can be used for marketing purposes, such as lead generation and customer engagement.
You can offer marketing services to businesses that want to use ChatGPT for their marketing campaigns.
There is a lot of different marketing services you can use ChatGPT for. This includes email marketing, adcreatives, social media posts, marketing funnels, and more.
11. Chatbot Analytics Services
Businesses need to track the performance of their chatbots to identify areas for improvement.
You can offer analytics services to help businesses track and analyze their chatbot data.
Analytics are crucial for businesses for understanding the result of marketing effort. By analyzing data, you can understand what works and what need to be improved for better results. Utilizing and understanding analytics will save businesses a lot of time and money, as well as boosting potential earnings.
If you have a large network of contacts in the business world, you can offer ChatGPT as a reseller.
You can earn commissions by selling ChatGPT to businesses that are interested in using it.
ChatGPT is a powerful tool that can help businesses improve their customer service and increase their revenue.
By offering ChatGPT-related services, you can make up to $500 a day.
Whether you are a chatbot developer, marketer, or copywriter, there are many ways to make money with ChatGPT.
So now is the time to take advantage of all the opportunities that are available because of AI technology. 
Keep up with everything that is happening in the AI industry.
Every week, we introduce new AI tools and discuss news about artificial intelligence.
To discover new AI tools and stay up to date with newest tools available, click the button.
To subscribe to the newsletter and receive updates on AI, click here.
I'll also give you a full AI-tools directory.