Want to enhance your creativity?
Neural Frames helps you bring your words to life. The AI technology lets you personalize your animation style and explore your imagination.
Say goodbye to boring tasks and let artificial neural networks make your ideas a reality.
Score: 9.5/10
Price:
Newbie: Free to use
Navigator: 19$/month
Knight: 39$/month
Ninja: 129$/month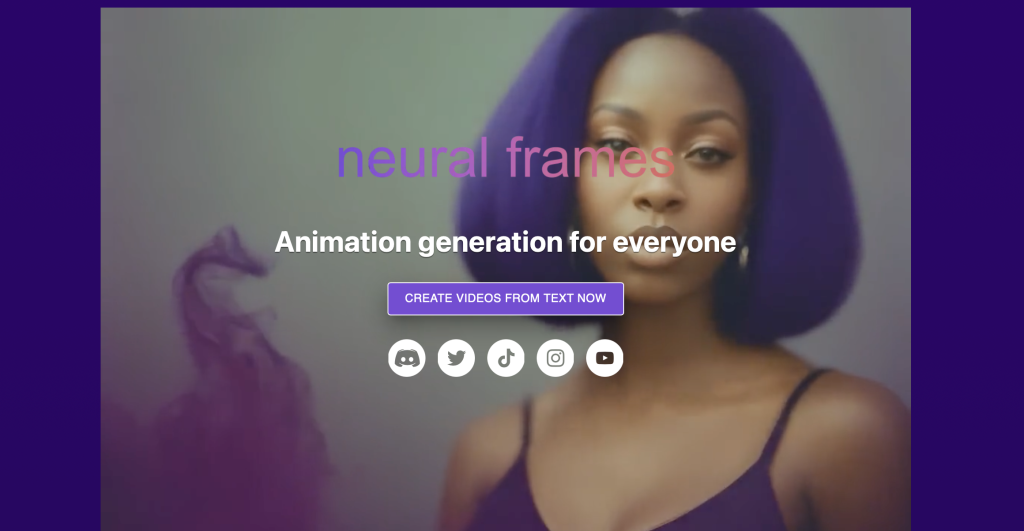 Neural Frames utilizes an advanced technology called Stable Diffusion, an artificial neural network that has analyzed a staggering 2.7 billion images.
By leveraging this vast repository of visual data, the AI animation generator is able to seamlessly convert text prompts into mesmerizing motion content.
Whether you're a creative professional, marketer, or simply someone looking to add a touch of magic to your digital creations, Neural Frames is here to redefine your creative journey.
Enhance creativity with text-prompts
The core of Neural Frames lies in the concept of text prompts.
These prompts act as inputs for the AI, guiding it to generate animations that align with your vision.
By simply entering your desired words or phrases, you can kickstart the transformation process.
The AI-based prompt assistant is designed to make this experience even more seamless, alleviating the burden of brainstorming and helping you create stunning AI video prompts effortlessly.
Neural frames Key Benefits
Unmatched Quality: The AI animation generator leverages state-of-the-art technology, ensuring top-notch quality and realism in every frame.
Time and Effort Efficiency: Gone are the days of labor-intensive animation creation. Neural Frames streamlines the process, saving you valuable time and effort.
Cost-Effective: Budget-friendly solutions. Neural Frames offers competitive pricing plans, ensuring that exceptional animation creation remains accessible to all.
Wide Range of Applications: Whether you're a content creator, marketer, or business owner, Neural Frames has versatile applications. From captivating social media ads to engaging presentations, the possibilities are limitless.
You can experience the AI animation generator for free and witness the seamless fusion of words and motion. Embrace the future of creativity with Neural Frames and unlock a world of infinite possibilities.
Insidr.ai constantly searches the market for AI news and the best available AI tools. You can find and compare all AI tools by clicking here: